DALLAS (CBSDFW.COM) – James Wright's love of the Dallas Cowboys dates back to when he was a little kid. A love his mother says caused him to cry whenever the Cowboys would lose a game.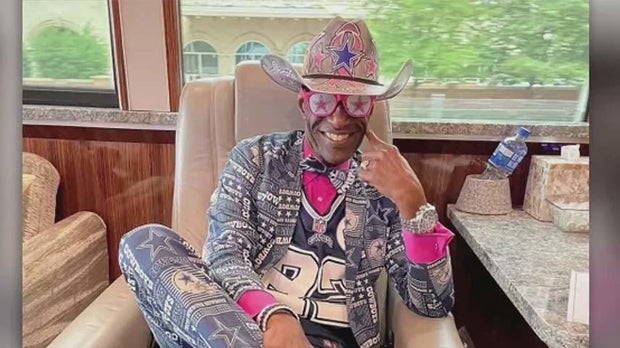 James Wright's love of the Dallas Cowboys dates back to when he was a little kid.
James Wright
Fast forward to today, Wright still wears his emotions on his sleeve. His closet is filled with Cowboys clothing that looks like a team store.
He says he wears at least one piece of team clothing every day. That includes his nine custom Cowboys suits, which has earned him the title of "Suit Man."
When James is not rooting on the Cowboys, he serves as a first sergeant in the Junior ROTC program at Spruce High School in Dallas ISD.
Wright says he loves the idea of helping students prepare for success.
It was those same students who helped James bounce back from the devastating loss of his wife, Rose, to COVID in late 2021.
James says spending time alone allowed him to tap into what his wife would have wanted for him. She would've wanted him to continue his passion of rooting for the Cowboys.
This season, that passion was rewarded when Cowboys legend Darren Woodson, the Dallas Cowboys Cheerleaders, and Rowdy the mascot showed up to Wright's house to tell him he was selected as the official Cowboys Fan of the Year.
In addition to an 11 1/2 foot statue (in his likeness) that sits in his front yard in DeSoto, James will get to attend the NFL Honors Award Show a night before the Super Bowl in Arizona.
There, he'll find out if he's the Captain Morgan NFL Fan of the Year.
Wouldn't that be something if he wins the award, and the Cowboys are playing for the title the next night. When asked what advice he has for anyone with a tremendous passion in life, James responds "Don't be ashamed. If you passionate about something and you love it… then, love it!