LeBron James has just surpassed Kareem Abdul-Jabbar for the most regular season points scored in NBA history.
In front of cheering fans at L.A.'s Crypto.com Arena, the Los Angeles Lakers star secured his place in the record books during the third quarter of Tuesday's game against the Oklahoma City Thunder. James set the record with a fadeaway jumper with 10.9 seconds left in the third quarter.
38,388 POINTS
LeBron James hits the fadeaway jumper to become the NBA's all-time leading scorer! #ScoringKing pic.twitter.com/P5LyTZAZn3
— NBA (@NBA) February 8, 2023
The game was halted as NBA Commissioner Adam Silver and Abdul-Jabbar came out to mid-court to honor a clearly emotional James.
"LeBron, you are the NBA's all-time scoring leader, congratulations," Silver said.
James then took the microphone to say "thank you to the Laker faithful. You are one of a kind."
He then asked the crowd to give a standing ovation to Abdul-Jabbar.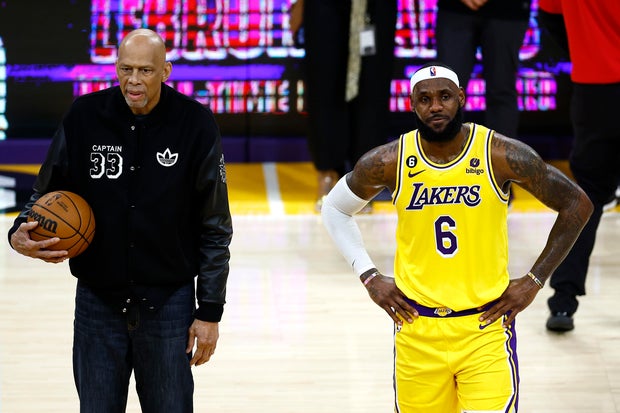 Kareem Abdul-Jabbar stands on court with LeBron James #6 of the Los Angeles Lakers after James passed Abdul-Jabbar to become the NBA's all-time leading scorer, surpassing Abdul-Jabbar's career total of 38,387 points against the Oklahoma City Thunder at Crypto.com Arena on Feb. 7, 2023 in Los Angeles, California.
Getty Images
James, at age 38, is now in sole possession of the coveted record —long considered one of the NBA's unattainable— leaving Lakers icon Abdul-Jabbar and Utah Jazz legend Karl Malone in second and third, respectively, on the all-time scoring list. Abdul-Jabbar became the league's leading scorer in 1984, and his 38,387 career points had stood as the record since 1989.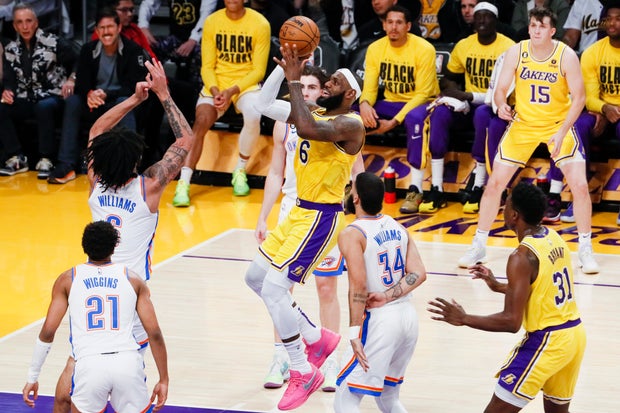 Los Angeles Lakers forward LeBron James attempts a shot against the Oklahoma City Thunder at Crypto.com Arena on Feb. 7, 2023 in Los Angeles.
Robert Gauthier / Los Angeles Times via Getty Images
James, an Akron, Ohio native, scored his first NBA points on October 29, 2003, when he made a jump shot against the Sacramento Kings as a member of the Cleveland Cavaliers, the team that drafted him. Since then, he has averaged 27 points per game throughout his 20 seasons in the NBA, according to Basketball Reference, this despite not labeling himself as a prototypical scorer.
Last month, he became the only player other than Abdul-Jabbar to score over 38,000 points. However, James still trails Abdul-Jabbar, who, rather surprisingly, had only one three-pointer in his career.
In an interview with CBS News, Memphis Grizzlies forward Danny Green, a former teammate of James, called the 6-foot-9 James a "unicorn" who can beat you in many ways offensively.
"He's like a freight train coming at you," he said ahead of James' historic moment. "And knows how to use his body and coordinate. It's damn near impossible to guard, especially when he jumps 40 inches in the air."
Last week, James jumped to fourth on the all-time assists leaders list. Green said his passing abilities make it difficult to contain him on the court.
"He's gonna burn you in many different ways other than scoring because he's capable of doing that," Green added. "I think it makes it easier for him to score and harder to guard."
Ticket prices to see James had soared to more than $69,000 for Tuesday's game against the Thunder, and a pair of tickets surpassed $106,000 for Thursday's game against the Milwaukee Bucks, according to VividSeats.
Green told CBS News he doesn't believe anyone else will break James' record –just like he didn't think anyone would beat Abdul-Jabbar's.
"You have to see somebody else play 20 years again at a high level, which I don't think we'll see," he said. "With the contracts that we have, guys are gonna retire –they don't need to play 20 years anymore."
In October, James reflected on the possibility of breaking the scoring record before the start of the season.
"To sit here and to know that I'm on the verge of breaking probably the most sought-after record in the NBA, things that people said would probably never be done, I think it's just super humbling for myself," James said at Lakers Media Day.
LeBron talks about potentially passing Kareem as the NBA all-time leading scorer this season.#NBAMediaDay pic.twitter.com/IyyGpQsR1f
— NBA (@NBA) September 26, 2022
Last year, Abdul-Jabbar told ESPN that if James were to break the record, he would be "very happy for him."
"The game always improves when records like that are broken, so LeBron should enjoy his achievement," he said. "He's worked very hard to get this far. And for him, he'll get to wait and see who might be lucky enough to break his record, if that's gonna happen. It's always about passing it on to the next guy in line."
James told ESPN in January he would like to play until his eldest son, Bronny Jr., makes it to the league, which means the scoring record could be much higher by the time he hangs up his sneakers. Bronny Jr. would be eligible to be drafted in the 2024-2025 season under the current collective bargaining agreement, ESPN reported.
Since entering the league in 2003, James has become one of the NBA's biggest stars, collecting four championship rings in the process. He has played with the Lakers, the Miami Heat and had two separate stints with the Cleveland Cavaliers. Whenever he retires, James will leave behind a Hall of Fame resume and be widely revered as one of the best players to ever step onto an NBA court.