Damar Hamlin has made it to the Super Bowl. The Buffalo Bills safety made his third appearance in Phoenix during Super Bowl week, this time on the field at State Farm Stadium prior to Sunday's game between the Kansas City Chiefs and Philadelphia Eagles.
It's been a little more than a month since Hamlin went into cardiac arrest and needed to be resuscitated on the field in Cincinnati. Sunday's appearance was another milestone in his remarkable recovery.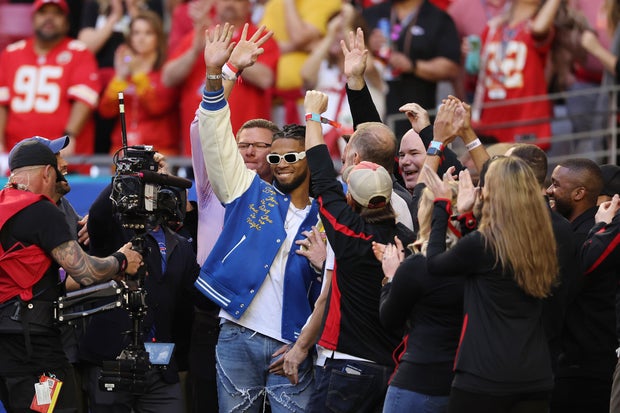 Damar Hamlin of the Buffalo Bill stands with the medical personnel that cared for him after he collapsed during a game on Jan. 2, 2023, before Super Bowl LVII at State Farm Stadium on Feb. 12, 2023, in Glendale, Arizona.
Getty Images
During the pregame pageantry, the NFL honored the Bills and Cincinnati Bengals training and medical staffs who assisted Hamlin, along with the staff at the University of Cincinnati Medical Center. A minute later, Hamlin joined them, putting his hands together to form a heart. He also received hugs from several of the first responders.
He also appeared on stage at an NFL Honors event on Thursday night.
"My entire life, I felt like God was using me to give others hope and now with a new set of circumstances, I can say he's doing what he's always done," Hamlin said Thursday. "I have a long journey ahead, a journey full of unknowns and a journey full of milestones, but it's a lot easier to face your fears when you know your purpose."
Hamlin collapsed on the field after a collision with Bengals wide receiver Tee Higgins on Jan. 2. The sight of an elite-level athlete nearly dying on the field sent a shock across the NFL and the world.