The historic matchup between Patrick Mahomes of the Kansas City Chiefs and Jalen Hurts of the Philadelphia Eagles as the first head-to-head matchup between Black quarterbacks in the Super Bowl has not been lost on Doug Williams, the first Black quarterback to start and win a Super Bowl more than three decades ago.
"I know there's a lot of young guys across the country, realize that if it's a dream, it could happen," Williams, 67, told CBS News this week. "Because it happened for these guys."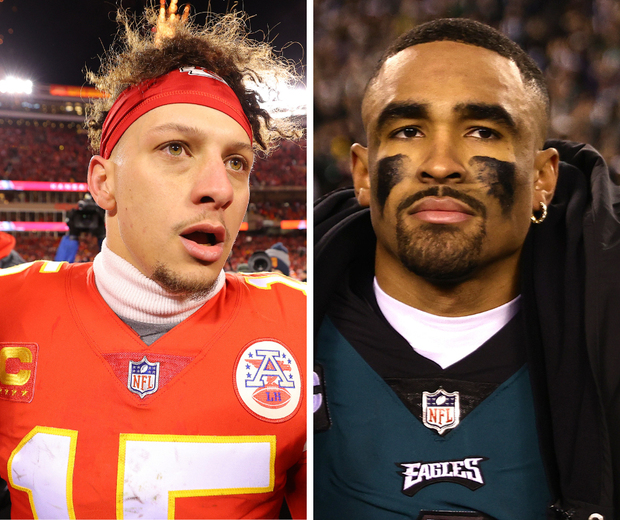 Patrick Mahomes and Jalen Hurts are the first-ever Black starting quarterbacks to play against each other in the Super Bowl.
Getty Images
In the eyes of Williams, who is the Washington Commanders' senior advisor to team president Jason Wright, the impact of having two top Black quarterbacks in the big game on Sunday has already taken effect with Mahomes and Hurts – this season's AP NFL MVP and the runner-up, respectively. However, Williams, who was a college and high school coach, believes teams around the league need to work on hiring more Black coaches.
"It's time to open the doors for more Black coaches," he said, adding that he wants owners to "open up their heart and their mind" to deserving coaches to lead teams in the NFL – a league made up of 70% of players of color.
"There's an awful lot of guys out there of color, Black guys out there that deserve the opportunity to be a coach," he said.
There are only six head coaches of color currently in the NFL, which includes the Houston Texans' DeMeco Ryans, the Pittsburgh Steelers' Mike Tomlin, the Tampa Bay Buccaneers' Todd Bowles, the New York Jets' Robert Saleh, the Washington Commanders' Ron Rivera and the Miami Dolphins' Mike McDaniel.
NFL Commissioner Roger Goodell addressed some of the NFL's diversity concerns during the annual Super Bowl news conference on Wednesday, saying "it's never enough."
Ahead of the #SuperBowl, NFL Commissioner Roger Goodell says there's still "more work ahead" when it comes to increasing diversity in the league.
"We're pleased to see progress, but it's never enough," he says. pic.twitter.com/18a0vqtEeG
— CBS News (@CBSNews) February 8, 2023
Williams also reflected on the legacy of Black quarterbacks in the league – who were long subjected to racist stereotypes – and what he calls the fraternity of Black quarterbacks in the NFL.
"I think every Black quarterback knows that this role wasn't always easy for us," he told CBS News. "It's a lot of easy for the guys playing in this week than it was the guys behind. Because when I think of those two guys [Mahomes and Hurts], I cannot help myself to think of James Harris, Joe Gilliam, Warren Moon and Marlin Briscoe. All the guys back then who did not get the same opportunity to equal opportunity as these two guys got. You gotta think about those guys who had the talent but just wasn't let in the door."
Doug Williams, a quarterback with the then-Washington Redskins, scrambles with the ball during the 1987 season.
Jonathan Daniel / Getty Images
But he sees progress on that front. Eleven quarterbacks who started on Week 1 of this season were Black. When the postseason came around, five of the 14 postseason teams had a Black quarterback, according to 247 Sports. Potential top picks Bryce Young and C.J. Stroud are projected to be NFL starters when they enter the league. And on Sunday, Mahomes and Hurts are headlining Super Bowl LVII at State Farm Stadium in Glendale, Arizona.
"Before I won the Super Bowl [with the then-Washington Redskins], there was no Black quarterback in the Super Bowl," he said. "It's just 35 years ago, so I think it's fitting to talk about it. Now, the most important thing now, we've done it, let's stop talking about it and accept whoever the quarterback is and let's go with it."
As for whether he's rooting for Mahomes or Hurts on Sunday, Williams already won.
"All I can answer is the fact that I cannot lose," he said.