Ghana international soccer player Christian Atsu remains missing more than a week after the deadly earthquakes which struck Turkey, his agent said Tuesday.
Atsu was believed to have been in a building which collapsed in the southern Turkish city of Antakya, in the Hatay province, his Turkish club, Hatayspor, previously reported.
Atsu's agent, Nana Sechere, tweeted Tuesday that he was "at the quake site in Hatay with Christian's family," but that Atsu still had not been located.
On Feb. 7, both Hatayspor and Ghana soccer association said that the 31-year-old Atsu had been rescued from a collapsed building and taken to a hospital.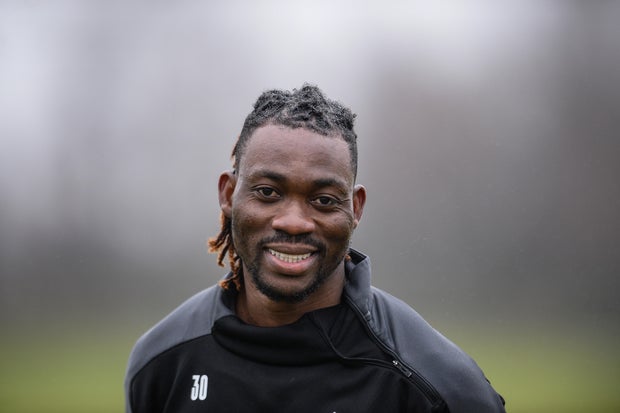 FILE – Christian Atsu during a Newcastle United training session at the Newcastle United Training Centre on Jan. 28, 2021, in Newcastle upon Tyne, England.
Serena Taylor/Newcastle United via Getty Images
However, two days later, on Feb. 9, Sechere and Aydin Toksoz, the deputy head of Hatayspor soccer club, said that Atsu remained missing, along with the club's sporting director, Taner Savut.
"We have not been able to reach Atsu or Taner Savut," Toksoz told the Anadolu Agency.
Sechere also had said in messages to the Associated Press on Feb. 9 that he traveled to Turkey to try to find Atsu but the player "is yet to be found."
Atsu who previously played for English clubs Chelsea and Newcastle, signed for Hatayspor late last year. The club is based in Antakya, near the epicenter of the 7.8-magnitude earthquake that struck in the early hours of Feb. 6, one of two major earthquakes, along with ensuing aftershocks which devastated southern Turkey and northern Syria. At least 35,000 people have died in the earthquakes.
Atsu scored late in injury time to give Hatayspor a 1-0 win over Istanblul-based Kasimpaşa S.K. in the Turkish league on Feb. 5, earning him praise from his new club hours before the earthquake struck.
Ghana's ambassador to Turkey said last week she was also searching for Atsu. Francisca Ahsitey-Odunton told Ghanaian radio she was given a list of 200 hospitals or medical facilities that Atsu could have been sent to if he was rescued and she had also been unable to confirm where the player was.