A signed jersey worn by the late Los Angeles Lakers legend Kobe Bryant during his lone MVP season has sold for more than $5.8 million, auction house Sotheby's New York announced Thursday. It makes it the most valuable Bryant item ever sold at auction, and the second most valuable basketball jersey ever sold.
Bryant wore the iconic No. 24 jersey during several games of his only MVP season in 2007-08, Sotheby's said, including five preseason games, 14 regular season games and six playoff games.
"Sports artifacts with this type of long-term, heavy wear are a rarity in the collecting space, with many modern items worn for a single game," Sotheby's said. "Kobe Bryant scored 645 points in this jersey."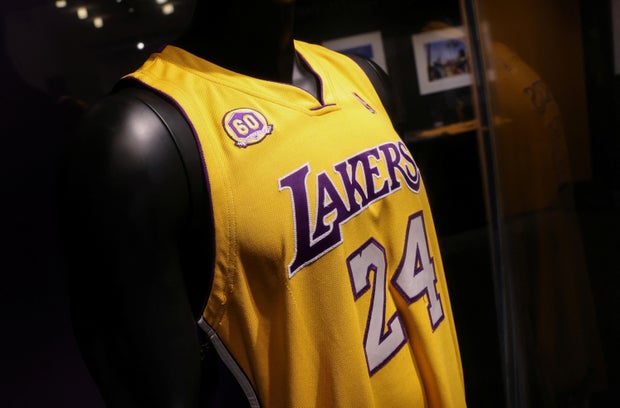 A game-worn and signed Los Angeles Lakers Kobe Bryant No. 24 jersey worn by Kobe during his MVP 2007-2008 NBA season ahead of its auction in New York City. Feb. 1, 2023.
MIKE SEGAR / REUTERS
A jersey worn during Game 1 of the 1998 NBA Finals by Chicago Bulls legend Michael Jordan sold for more than $10 million in a Sotheby's auction last September. It is the only basketball jersey that has sold for more than Bryant's.
Bryant, shown donning the iconic purple-and-gold Lakers uniform, is featured in countless murals in California and around the world. Bryant played his entire 20-year NBA career with the Lakers, leading them to five NBA titles.
On the morning of Jan. 26, 2020, Bryant, his 13-year-old daughter Gianna, and seven others, were killed when the helicopter they were riding in crashed near Los Angeles amid heavy fog.