Global icon, singer and new mom Rihanna is gearing up to take over the biggest stage of the year.
The Oscar nominee sat down with Nate Burleson ahead of the Apple Music Halftime show and said that when she was asked to perform, she had to really consider whether she was ready to make her long-awaited return to the stage after seven years.
"It was so scary because it was kind of unexpected to come back from 0 to Super Bowl, that's kind of nuts," she said.
Motherhood appears to have had an impact on Rihanna. The business mogul, who created the Fenty Beauty line, welcomed a son in May with rapper A$AP Rocky. Now Rihanna said that any opportunity she receives now "has to feel worth it."

"Nothing is worthy of your time away from your kid," Rihanna said.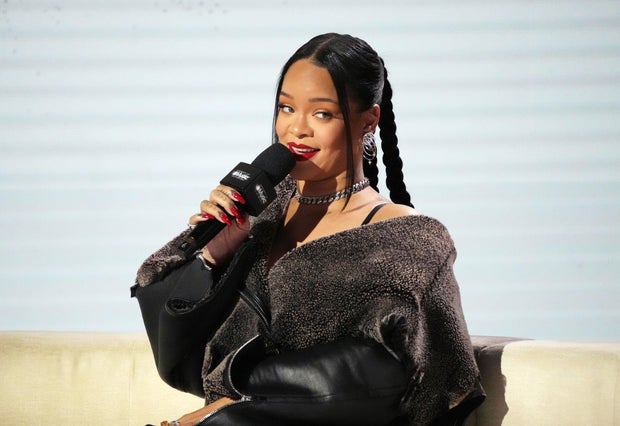 Rihanna speaks to Apple Music about the Super Bowl LVII Halftime Show at Phoenix Convention Center on Feb. 9, 2023, in Phoenix, Arizona.
Jeff Kravitz/FilmMagic via Getty Images
During a Super Bowl press interview yesterday, Rihanna shed some light on what the creative process has been like so far in preparing for Sunday's performance. She said that her setlist has changed 39 times leading up to the show and told Burleson that she may have a surprise for viewers.
"I'm thinking about bringing someone, I'm not sure," she teased.

Catch the rest of Nate Burleson's interview with Rihanna tonight on NFL+ at 8 p.m. ET.