DALLAS (CBSNewsTexas.com) – The Dallas Mavericks have signed their first-round draft pick, Olivier-Maxence Prosper.
The Mavericks acquired the draft rights to Prosper on July 6, along with center Richaun Holmes from Sacramento in exchange for cash considerations.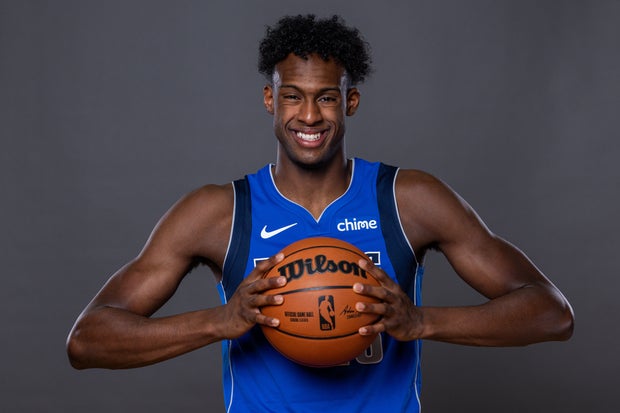 LAS VEGAS, NEVADA – JULY 13: Olivier-Maxence Prosper #18 of the Dallas Mavericks poses for a portrait during the 2023 NBA rookie photo shoot at UNLV on July 13, 2023 in Las Vegas, Nevada.
/ Getty Images
"O-Max was considered one of the best wing defenders in college basketball last year and plays with tremendous energy," said Mavericks General Manager Nico Harrison. "We are excited to put pen to paper and officially sign him."
The 21-year-old averaged 12.6 points (.439 FG%, .821 FT%), 5.4 rebounds, 1.2 assists, 0.8 steals and 25.2 minutes per game in five games – all starts – for the Mavericks' NBA 2K24 Summer League 2023 team that finished 4-1 in Las Vegas.
In his two seasons at Marquette, Prosper averaged 12.5 points (.512 FG%), 4.7 rebounds and 0.9 steals per game in 36 games (all starts) as a junior last season. He spent his freshman year at Clemson prior to transferring to Marquette.
Prosper, the 24th overall pick in the 2023 NBA Draft, recorded a 40.5-inch max vertical jump and measured with a 7-1 wingspan at the 2023 NBA Draft Combine this past summer.
Prosper will wear No. 18 for the Mavericks. Terms of the deal were not disclosed.