At just 28 years old, Patrick Mahomes is a two-time NFL MVP and two-time Super Bowl champ – and the secret to the Kansas City Chiefs quarterback's success may just be a pair of red underwear. The football star revealed he has worn the same pair to every single NFL game of his six-year career.
That means for more than 100 games, Mahomes has worn the same skivvies under his Chiefs uniform. The secret was first shared by former Chiefs quarterback Chad Henne – who was backup to Mahomes between 2018 and 2022 – during an interview with ESPN's Adam Schefter on his podcast earlier this year.
Henne said Mahomes is particular about many things, like his notes. But when Henne said Mahomes is also particular about his underwear and always wears the same pair, Schefter's jaw dropped. "There's things that I've seen that nobody else has seen," Henne joked.
"So he signs this half a billion dollar contract and he's still wearing the same pair of underwear throughout his entire career?" Schefter said.
"Only on Sundays," Henne replied.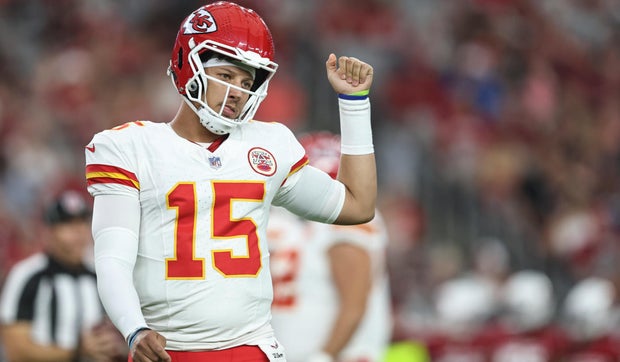 Mahomes in his number 15 Chiefs jersey – likely with the same pair of red underwear underneath.
Michael Owens/Getty Images
Mahomes confirmed the superstition in a Monday Night Football interview with Eli and Payton Manning on ESPN this week. "I love a good superstition, but can't you just do the same pre-game meal? Does it have to be the red underwear?" Eli Manning asked.
"First, my wife Brittany got them for me. So I'm not throwing y'all down, but I have to wear them," he said. "At the same time, I threw them on that first season, we had a pretty good season that season."
For those wondering about the state of the frequently donned underwear, Mahomes said he only wears them for game day, so they're not worn down, and he also cleans them "once in a while."
"I mean if we're on a hot streak, I can't wash them, you know? I've just got to keep it rolling," he said. "As long as we're winning, I'll keep the superstition going."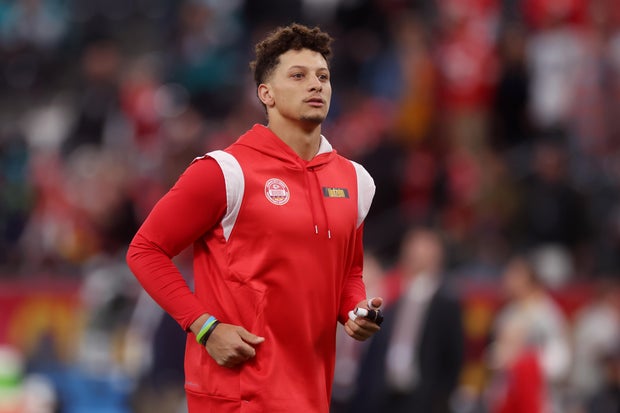 Patrick Mahomes said his wife, Brittany Mahomes, bought him the pair of red underwear he wears to every NFL game.
/ Getty Images
Mahomes was one of three players profiled on Netflix's series "Quarterback" this year, during which he showed off his stringent pre-game ritual, performing superstitious acts like walking the field and warming up the same exact way ahead of each game.
He joined the Chiefs in 2017 and has played his entire NFL career with the team. He agreed to a 10-year, $450 million extension in 2020 and will be under contract with the Chiefs until the 2031 season, according to NFL.com. Between 2023 and 2026 he will rake in a whopping $210.6 million – a historic four-year salary in the NFL, according to NFL Network Insiders Ian Rapoport and Tom Pelissero. And he could make up to $218.1 million by the end of 2026.